I come home one evening and you have a couple of your coworkers at the house. They look like they could be male models. You introduce us. Their names are Alex and Brad. You told them they could stay at our place for the weekend because their apartment is being renovated.
That night when we are all in bed, I decide I want to have sex. Our door is open some. We are both naked. I've been sucking your dick and trying the usual tricks, but you just aren't getting hard. We don't know it, but Alex sand Brad are watching us from the cracked door. I finally kneel up on the bed, exasperated.
"I can't believe this shit. Why the fuck won't you get hard?!"
"Don't get so loud. They'll hear you."
I get up off the bed with a huff and look at you as I head to the door.
"I don't give a shit if they hear me."
I get to the door and they both step back.
"My husband is a fucking loser and can't get it up. Seriously, would you two not be able to get it up if I was naked, sucking your dicks and ready to fuck?"
They look at each other, then back at me.
Brad grins, "Is that an offer?"
I tilt my head and think for a second. "Yes. I want you to fuck me. In fact, I want both of you to fuck me. Would you have a problem with that?"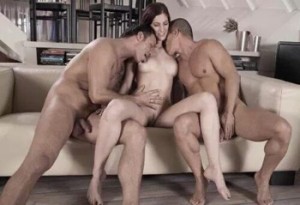 Alex steps forward. "We've taken on the same girl at the same time before. It wouldn't be a problem at all."
I open the door wider. "Come on in."
They walk in and you cover yourself with your hands.
I roll my eyes. "Oh please. Like they'd be able to see your tiny dick anyway."
Alex and Brad laugh. We can see you turn red from embarrassment.
"Okay men, let's get those clothes off. This girl is ready to get her freak on!"
They take off their clothes.
I smile when I see how large their cocks are. I look back at you.
"Now those, are cocks. You can't even get to half that size when you're hard!"
You look at me. "Why are you doing this?".
"Because I am fucking horny. I need dick. And you, little man, aren't up to par."
They laugh at how pathetic you are.
I look at them. "I have an idea. If you're both game?"
Alex smirks. "And what would that be?"
"Because my husband can't give me what I want. I think he should be punished. I want him to get you both hard for me. I want him sucking your dicks and doing whatever he needs to to get you both ready for me. Would you be okay with that?"
They both agree to it.
I get on the bed and push you off.
"Get to sucking!"
You walk over to them timidly and kneel down. You put Brad's cock in your mouth and start to suck. Alex steps closer to you. You start to jerk him off. You switch between the two at various times.
I lay with my back propped up against the pillows as I watch. I start to touch myself.
"That is so hot."
Alex looks down at you as you suck him.
"That cock that you're sucking… It's going to fill your wife's pretty little ass."
When you switch to Brad, he looks down at you and says, "And this cock is going to pound her pussy."
When they are hard, they pull back away from you. You lean toward them with your mouth open. They laugh.
Alex looks at me. "I think your husband is a queer. Look how much he still wants our cocks. And he is even hard himself!"
Brad looks down at your cock. "Now I see why she seems unsatisfied. It is so small, even hard."
I crawl to the foot of the bed and sit on my legs.
"Let's not bother with him anymore. I am very wet and horny, and need to be fucked."
They come over to the bed, leaving you on the floor. You turn and see us kissing and touching one another. Alex is licking, sucking and playing with my nipples. Brad is kissing me while he starts sliding his fingers in and out of my pussy. You can already see how much more satisfied I am by them than I have been with you lately.
When Brad stops kissing me, I look at you and shake my head.
"Go sit in the corner. We don't need you in the way."
You crawl over to the corner and sit.
The guys lay me down. Brad gets between my legs and starts to eat me out.
"You taste so fucking good. I don't know how anyone would pass this up."
Alex straddles over my head and slides his dick into my mouth. He's facing you so you can see. As he slides himself in and out of my mouth, he looks at you.
"She gives great head. Much better than you. But I bet you wish this was your mouth I was fucking."
You blush again.
After a couple minutes, I say, "I want more dick."
They proceed to fuck me one at a time. You just watch any available dick you can see. Our moans make you start to stroke yourself.
When I'm straddled over Brad fucking him, Alex gets behind me and stops me so he can insert his cock into my ass. I look over my shoulder at you and grin.
"I bet you wish it was your ass he was sliding into. Don't you, faggot?"
You nod and say, "Yes."
Alex slides himself the rest of the way in me and I moan loudly. The initial pain turning into pleasure.