I will admit that I was surprised after the results in Poll # 4. A resounding majority of women, or 85%, love when they men decide to eat cum. But the next logical question is how specifically do women like men eating cum?
It seems ladies like actually do enjoy it.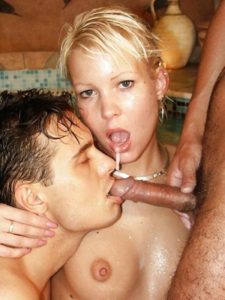 Some women like the variety of their men not being afraid of kissing them after she gave her a blowjob and swallow his semen; or letting them eat them out when they cum on or in her.
Some of them believe it makes it fun.
Others believe that it is a shared experience and shows that the guy is really comfortable with his own sexuality.
Others believe that heir disgust with their cum is exaggerated.
Even some hate when their men refuses to kiss them and eat their cum as they feel used after going down on a guy and already swallowed.
For a certain segment it suggests to the that a guy is more sexually open-minded. And some of them they like it A LOT.
You can read some other comments from women if you are interested like, Girls Asks Guys or reddit.
But now, the next question is:
How specifically do ladies like when men eating cum?
So, I decided to do dig down a little deep down. So if some of us, men, are always looking for ways to increase the pleasure and fun of your girls, then the most logic question, is what is her favorite way for him to eat cum.
So in my survey I decided coincide four possible options:
Direct from his cock (probably bending backwards or cumming in himself)
Clean up after he cums on top of her, whether on her tits, ass, tummy
Suck other guy's cock
Creampie
In a way, I came at no surprise that their favorite way is cleaning their "mess" directly from their pussy.
But what I was really surprised is the fact that they are turned on when they suck other guy's cock. This makes me believe that both sexes are finally becoming more open that a sexual experience should be fun and should not be limited by the stigma imposed by society, which hinders our ability to enjoy sex.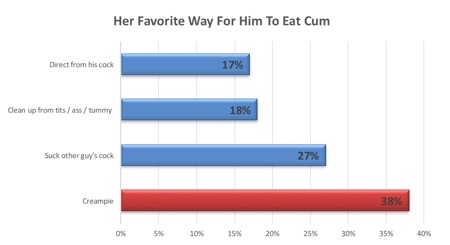 Unfortunately, I completely forgot to include the option of snowballing. I will probably include this option if I decide to run the same survey in my twitter account.
So, girls and guys, look forward for your comments in my blog.