My husband, Jim, has been so understanding of my need to try dating outside of our marriage. I know it was a shock at first, but he seems to be more welcoming to the idea lately. He thinks it's because I envy Anita's freedom and want material possessions; but that's not it. Ever since Jim's promotion as Director of the Botanical Garden, we could afford anything I wanted.
The truth is, Anita has awakened my sexual desire. For some time, we have been lovers, although we both consider ourselves to be straight. She, quite simply, is an insatiable nymphomaniac. She has taught me how to satisfy her needs and, in the process, has created the same needs in me. She has aroused passions in me that I never knew existed. My date with my husband only made me more aware of these needs—he didn't satisfy them. I now have a deep-rooted need to be fulfilled by a talented man who understands a woman's needs and knows how to satisfy them.
With her wide array of lovers, Anita recruited her most prized lover, Warren, to be my first date. Warren is an ex-football player who played for our local NFL team. He has gone on to own his own insurance agency and is very successful. He managed his salary from the NFL well, and with his insurance business, he is now a very wealthy man. He has never married, but did have a live-in girlfriend for several years. That relationship produced a daughter who is now 17 years old. His daughter lives with him and he remains close to his former lover.
I have never seriously dated anyone other than my husband, and have never had sex with another man—certainly not a black man. Warren was to be my first. Anita warned me that his penis was very large and that he has long lasting power. For days before, we conditioned my pussy with a ten-inch dildo that Anita said approximates his size. "Just in case," Anita joked.
Finally, Saturday night arrived. I hadn't told Jim who, specifically, I was dating. I just made general comments about his work and his status. Of course, being a huge fan of our NFL team, I knew he would recognize Warren the minute he met him. I wondered what his reaction would be.

At first Jim was shocked when he answered the door. Soon, however, I could tell he was delighted to be talking football with this former pro-bowl offensive lineman. The contrast between the two of them was quite pronounced. My husband is a six-foot man who weighs around 190 pounds. Warren was 6′ 4″ and was now a trim 280 pounds. There was not an ounce of fat on his body. Finally, Warren looked at his watch and said that we'd better get going. He stuck out his hand and my husband vigorously shook it and wished us to have a good evening.
Jim reminded me of our agreement and Warren agreed to honor it. I saw a momentary look of disappointment cross Jim's face. I kissed him goodbye and asked if he wanted me to call him when we got to where we were going. "No," he said, "I just want you to enjoy yourself." Then my husband told me he wanted a word with Warren in private so I stepped outside to wait by the car. I didn't know at the time what they talked about.
Since Warren is so well known, he wanted to go somewhere we wouldn't be bothered by his fans. He had reserved a private table in the club at a nearby river casino. On the way, he got a phone call from Anita. He told her what our plans were and said, "Just a minute. I'll ask her." He turned toward me and said, "She wants to know if you want to get together after dinner. She has a date with a good friend of mine." I said, "Sure. Whatever. Where does she want to meet?" He talked a bit more and said, "How about we meet in the casino hotel. She said she'll get a room and call us."
I thought about my agreement with my husband and commented that that might be dangerous. I reminded him that I could only kiss him good night. "Well, that's the thing," he said, "your husband apparently had a change of heart and told me that if you were willing, to let happen what will happen." I was stunned. I asked him if he was serious. "Yes, I am," he replied. I scooted over close to him and kissed him. I said, "How about we forget about dinner?"
I could hardly wait to get to the hotel. My panties were becoming soaked. I ran my hand up his arm and felt his muscular strength. I put my hand on his knee and moved it up to his crotch where I felt his dick running down the left pant leg. I caressed it and felt it stiffen. His breathing became more rapid as did mine. "I've never known a woman as beautiful as you," he said. "Oh, you're such a smoothie," I said. "No, really," he assured me.
By now I was so sticky, I reached down and removed my thong panties. He took them from my hands and smelled the crotch. His big pink tongue licked them and he put the crotch into his mouth and began to suck it. He kissed me and I could smell my juices. I reached down for his fly and unzipped it. "I'll have to have your help," I panted. I took one look and creamed some more. It was so fat and huge. I had to have it in my mouth. I took it and used the techniques Anita had taught me using the dildo. Shortly, I felt the warmth of his load as he came in my mouth. I continued to stroke his penis and sucked it until he began to squirm. "It's starting to hurt a little, baby." To my surprise, he asked me to kiss him. I kissed him with my cum-filled mouth and his tongue penetrated my lips searching for his own nectar. "That was great, baby," he said.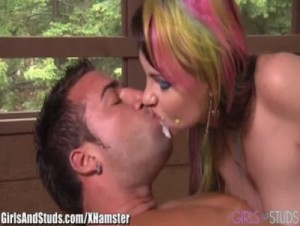 I was so damned anxious to have that big dick in my pussy that I started to masturbate. "Don't wear it out, baby," Warren told me. "Gimme some of that good juice." I stuck two fingers into my pussy and pulled out a large gob and put it in his mouth. I then told him to kiss me. We kissed and kissed, sharing our cum. I could see his dick getting hard again. I kissed it and told him to put it away and save it for me.
When we arrived at the hotel, we found the room Anita had reserved. When we knocked, it took awhile for her to answer the door. She was naked and so was her date who was lying on the bed with a rapidly deflating dick. The room smelled of sex. "Oh, sweetie," she said, "I've just had the best fuck! We're gonna have us some fun." She kissed me and stuck her tongue in my mouth. She pulled back and looked in my eyes. She laughed and said, "Hmmmm, it tastes like you've also gotten a head start. That's good. They'll both last longer now."
She introduced me to her date, Ryan, a well-endowed white guy who had been the starting quarterback when Warren played ball. "Why don't you two get comfortable," Ryan said. I sensed that the three of them had played together in this hotel many times, which Anita later confirmed.
At my husband's request, I had worn the very same clothes I'd worn on our trial date. I quickly took them off. Warren ripped at his suit and was naked in seconds. I walked over to him and stepped into his big arms for a hot kiss. The feel of his body against mine had me weak kneed. He was big and muscular with narrow hips and broad shoulders. I loved kissing his full lips and the feel of his big hands on my ass and breasts. He picked me up and ravaged my lips, neck and breasts.
He laid me on the bed and began to lick my pussy with his expert tongue. I could feel my juices dripping into his eager mouth. He scooted me to the head of the bed, spread my legs and pushed my knees back to my ears. He stood up on the bed, crouched a little and bent over me starting the process of putting his long, fat, dick into my wet pussy. He put his hands next to mine and spring-like began stroking in and out. I had never had a penis feel so good. His size, the angle and the measured rhythm of his strokes had me climaxing again and again.
He then asked me to turn over onto my hands and knees whereupon he entered me doggy style. I began to scream: "Oh, God!!! Oh, Yes!!! Yes!!! I kept screaming. I couldn't stop.
I started to move my ass up and down, back and forth to match his strokes and maximize his rubbing against my g-spot. The bedspread was wet from my juices. I climaxed over and over. Soon, I felt his magnificent cock engorge with blood as he readied for climax. "Here it comes, baby," he shouted. He began to stroke harder and harder. He punished my pussy with his strokes. I fought back and met his pace. My pussy gripped his dick. He came with a shudder. I was so drenched. He finally stopped stroking and his prick began to soften. When he pulled it out, there was a loud pussy fart. We all laughed and laughed. His juices began dripping from me.
Anita got on the bed behind me and looked at my pussy. She gave my butt a light kiss. "That looks so beautiful," she said. "You look like you've had a fence post in there." I laughed and said "I feel like I've had a freight train drive through me." She laughed and repeated her previous comment. With a very husky, measured, voice she said, "That looks so beautiful. I want some of that." She turned over beneath me and began to lick my clit. She flicked it back and forth and began to lick the cum off my legs and rear. Then she stuck her tongue in my pussy and started to suck out the cum. She swallowed and swallowed. By now I was bucking and face fucking her until I had another orgasm.
She looked at Warren and told him how delicious his cum was. She then turned to Ryan and told him, "I think she's ready for you, Ryan." I thought, "Oh, my God. Two men!!!" I turned over to see Ryan standing with a gorgeous hard on. It wasn't as large as Warren's but it was bigger than any man I'd ever imagined. He asked me, "Ready?" I answered, "Oh, yes."
Well, it turned out to be a wonderful night. Both Anita and I made love twice to the men and, after we'd worn them out, once with each other. I couldn't believe how satisfied I was. By now it was 3 a.m. and we all decided to head our separate ways. When we drove up to our house, I could see the light on in the front living room and Jim waiting in his favorite chair. I smiled at Warren and said, "Well, are you ready for your good night kiss?" He laughed uproariously, and said, "Yeah, baby, come here." Warren got so aroused again I gave him another blowjob in front of our house and swallowed his cum once more. As I walked into the house cum was dripping out of my pussy and my mouth was slick from all the cum I'd ingested.
Jim woke up when I walked in, looked at the clock and said, "Hi, honey. How was your date with Warren?"
I gave him a big 'thank you' hug and a lingering French kiss, then said, "Oh, it was alright."
Source: http://www.4freestories.com/stories/just-a-good-night-kiss