How To Eat Your Own Cum!!!
Since I was almost 15, I remember coming across with a she-male porn movie where they suck each other and suck cum; and I vividly remember that this is what triggered in the very bottom of myself my desire for eating my own cum.
Nonetheless, I repressed this feeling. But what you resist, persist. And over time, the fantasy of eating my own cum has grown over time.
Now as a full grown up, I have decided that there is nothing wrong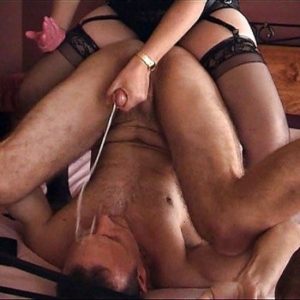 with it. That I should accept my sexuality and enjoy all possible experiences. And I always keep with this fantasy of eating my own cum, whether it is directly ejaculating in my mouth, or licking it from my hand, or even better eating a cream pie from my wife.
But as many of you have experienced, such sensation disappears after reaching an orgasm.
So here is a summary of multiple ideas for you to enjoy your cum:
Play yourself while watching a movie, even better if you use a masturbation sleeve. Right before you are about to cum grab a little plastic container and cum inside it. Wait 20-30 minutes and you will be hard again. Now get braver and stuck your tongue i it, and out. At this point, you will be tasting your cum. Just keep the plastic container straight and slid that cum directly into your mouth.
Try edging. Get yourself just about to the edge before organs and then STOP!!! If nothing comes out give one more stroke until the point you feel you are about to "precut" but without an orgasm. Then lick it and swallow!
Jack in your hand, and eat your cum really fast before the desires goes away.
Cum inside your wife's pussy, cuddle and talk for some minutes until your desires comes back. Then ask your wife to spread her legs and guide your head down to her pussy with her hands. Ask for her to encourage you! That is so hot!
Ask your wife to have you lie on your back, then she jerks you off and scoot up to your face and let your cum ooze out and onto your face!
And finally, there are other health benefits about eating your own cum! Read this link about it…
So go ahead and enjoy eating your own cum!