Straight or bi, there is nothing more enjoyable than eating your cum after your wife has been fucked either by you or by her bull.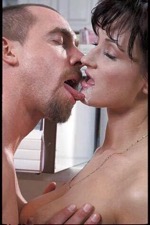 Cum cleanup is a long-recognized fetish for many cuckolds. Not all cucks are into it, but it's a popular and common part of the lifestyle for many.
Cucks who have tried it know the smell and taste of semen dripping out of our wife is a highly powerful aphrodisiac!
Thinking about licking your lady clean after she's had sex does not make you neither gay or bi. It's simply another part of being cuck.
Plenty of men aren't inclined to like it at first. However many grow to really like it.
One of the best ways to eat cum is to try your own. But as I have mentioned in prior posts, one typically looses the urge after ejaculation.  For some recommendations as to how to get used to eating cum, read one of my prior blogs.
Once you get used to the taste of your own cum, you may want to tell your wife what you will do, or even surprise her.
Now that you've gotten used to the taste of your own cum, get ready for cleaning up after your bull's lady.
Hopefully this video and this article will encourage you and your wife to add spiciness to your sex life! Sex was meant to be enjoyed and do not self impose some boundaries defined by society.
There is another nice blog article if you want to read another cuckold perspective. http://mycuckbullstory.blogspot.com/2012/09/the-straight-cuckolds-guide-to-eating.html?zx=f3c8e9e9dbe39ac6